ROAD 9 DIVAS Biker Girls
Visit my Merfolk page to see my new Leather MerBiker tails, made especially for the new Aquarius Underwater Mercycle from JFC!
ON THIS PAGE:
Rayne Rushed Spike-heel Platform Boots
25th Century Victorian Biker Suit and Boots
Diamond Dust & Obsidian Dust Sparkling Biker Suits
Montana Patent Leather Dress
Quilla Sparkling Leather Minidress
Route 9 Divas Jacket/Dress/Tights/Boots Full Biker Outfit
RAYNE ruched spike-heel platform boots
How about a great boot that's perfect for riding or dancing? My Rayne boot has some lovely wrinkles, a 2-cm platform and high spike heel. And of course, it sparkles!
11 color combos in 3 sizes the box! These are NOT for a specific body, so please grab the demo first! But the full box for just L$199.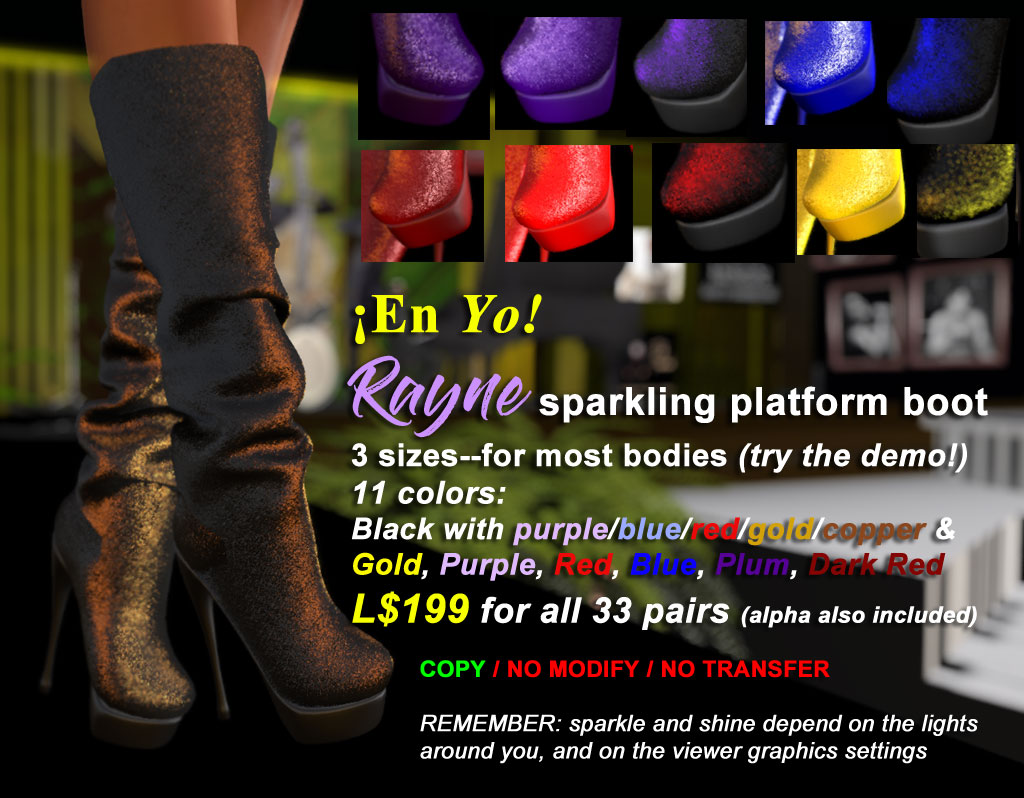 25th CENTURY VICTORIAN Suit and Boots
When I made this suit, I never realized how perfect it would be for a long road trip! Then I got a motorcycle and it all fell into place. This suit is Fitmesh for Maitreya, meaning you may have to use your body HUD to adjust your alpha layer. **NOTE: I've tried this suit on multiple mesh bodies and even on a system body, and it works perfectly for me on all of them. If you have a different body, send me a message and we can see if it works for you.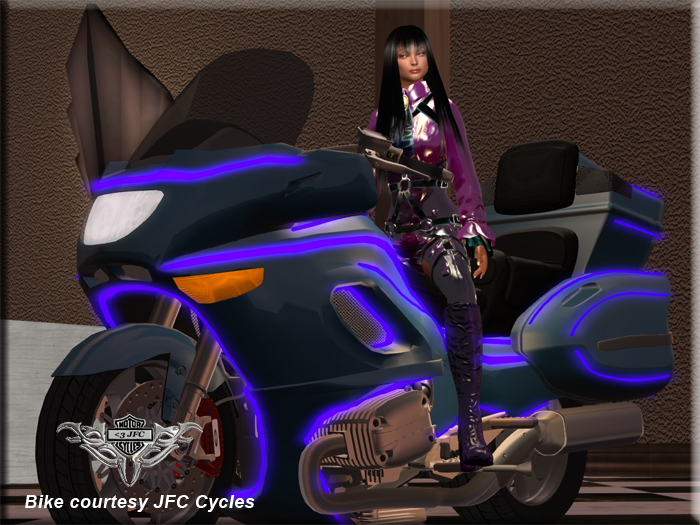 DIAMOND DUST and OBSIDIAN DUST Sparkling Biker Suits
Imagine riding your bike and driving into a cloud that turns out to be the fine dust from an explosion in a diamond factory? That's the idea behind my new Diamond Dust and Obsidian Dust versions of the original suit! Still photos don't do these justice, so take a 20-second look at this short YouTube video.
Diamond Dust comes in 4 colors with matching textured midcalf boots for L$135, or the Fatpack for L$405.
Obsidian Dust suits are all black but the sparkle is in four different colors; this comes only as the Fatpack with the boots in black for L$395.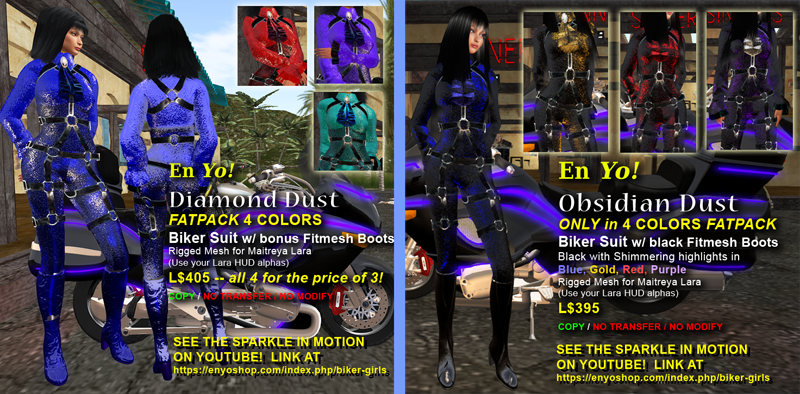 MONTANA Patent Leather Dress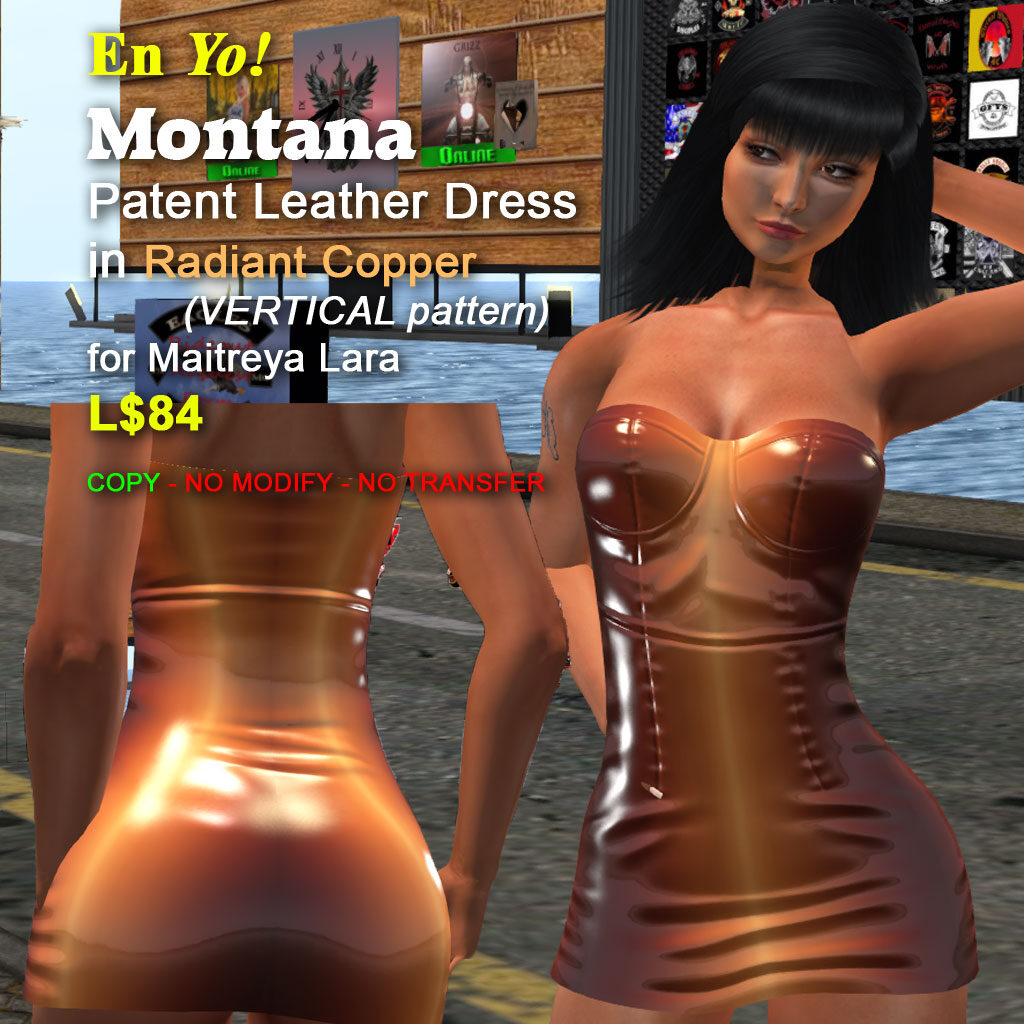 I've got this in my Biker collection because it's patent leather. But it's a fantastic dress for dancing! This L$84 Maitreya Lara dress comes in 7 colors; plus the Copper color shown here has a second version where the shading runs horizontally.
See all 8 dresses in motion on YouTube!
Buy them on Marketplace or in my inworld shops!
HOLIDAY SPECIAL! Red/White/Green only L$50 in December only at inworld shops! Watch the video.
QUILLA Leather & Sparkling Minidress
QUILLA was the Moon Goddess (and protector of women) of the ancient Inca civilization, and I made this dress at the same time I was building my MUSEO INCA at Christopher Street. The front and wide belt are leather; the trim and are sparkling fabric in a complementary color, and there's a steel chain (which is what put this dress in the Biker Girls Collection). The dress is L$72 or all four for L$230 and is made for Maitreya Lara and Slink Physique & Hourglass.
To see the sparkle, view this 80-second video.
Quilla Minidress in Marketplace or visit my En Yo! shops!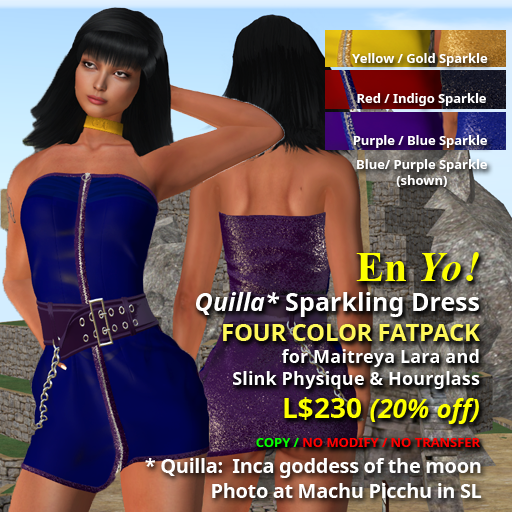 ROAD 9 DIVAS Leather Jacket Full Outfit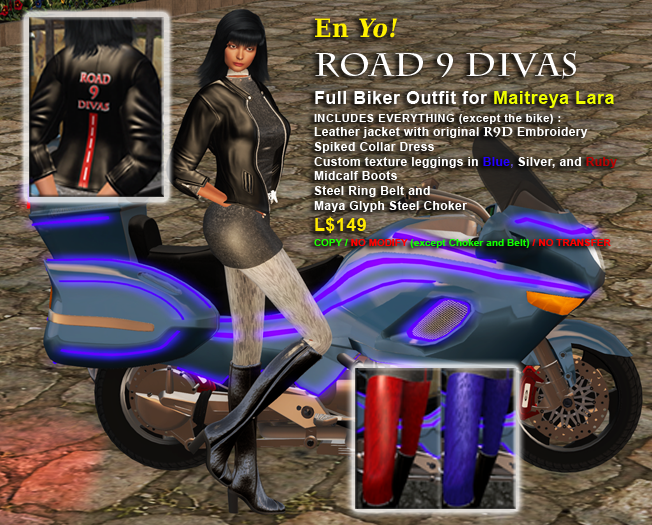 My Road 9 Divas leather jacket screamed for a full outfit, so here it is! For right now it's just for Maitreya but I will soon have at least pieces of it in Fitmesh as well. These are the same boots as in the 25th Century Victorian outfit above. Buy it in Marketplace or visit my En Yo! shop inworld!