Ukraine Charity
I see lots of avs wearing the Ukraine flag colors! It seems that something I can do is make some beautiful clothes and sell them with 100% of the L$ being donated to help the Ukranian people. I have selected the Global Giving Ukraine Crisis Relief Fund, a very highly rated organization. "Your donation to this fund will support Ukrainians in need, with a focus on the most vulnerable, including children."
I don't have the infrastructure of campaigns like Relay for Life that will send your L$ directly to the organization. I will capture your L$ to the account of my alt avatar who has no other transactions to ensure nothing is missed or mixed with my other sales. Whenever the amount reaches the Linden equivalent of US$15 (the minimum donation on their Website) I will pull them and immediately make the donation.
So please take a look at these items! Buy them inworld in any of my shops (check the SHOP! section on the Home Page for links) or from Marketplace (easier, but 10% will be taken by MP as commission). (I'm working to get new things up in both locations as I make them; apologies if I get behind on one or the other.)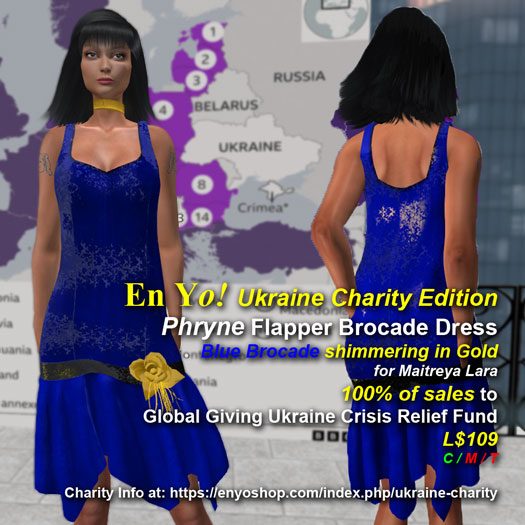 Here's my PHRYNE Flapper dress, Ukraine Edition! It's bright blue, with the flower in gold. But all the shimmering in the dress and belt are gold too! It's for Maitreya at L$109 in MP or my shops!
This awesome sparkling suit is from my Biker Girls Collection! But don't think for a second you have to ride off into the sunset to enjoy wearing this suit.
The fabric, straps and even the boots have that special sparkle, and look fantastic riding at night. It's just L$179 in MP or my shops!
See it in motion on the great new JFC Hotshot motorcycle! View on YouTube.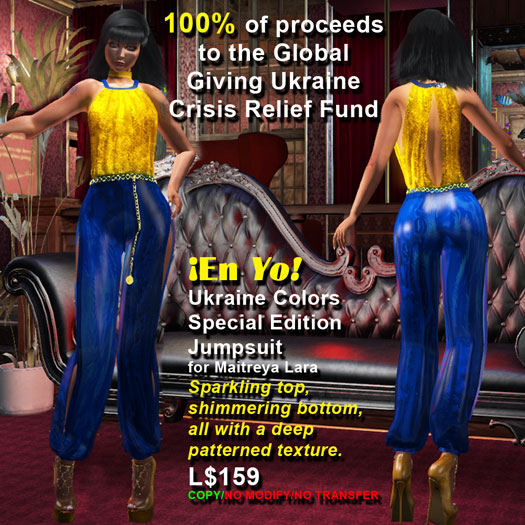 This is the Ukraine Special Edition of my favorite Jumpsuit! This one has the same shimmer below the waist as my other metallic jumpsuits, but the top has a unique combination of texture and sparkle! Get this for L$159 in MP or my inworld shops!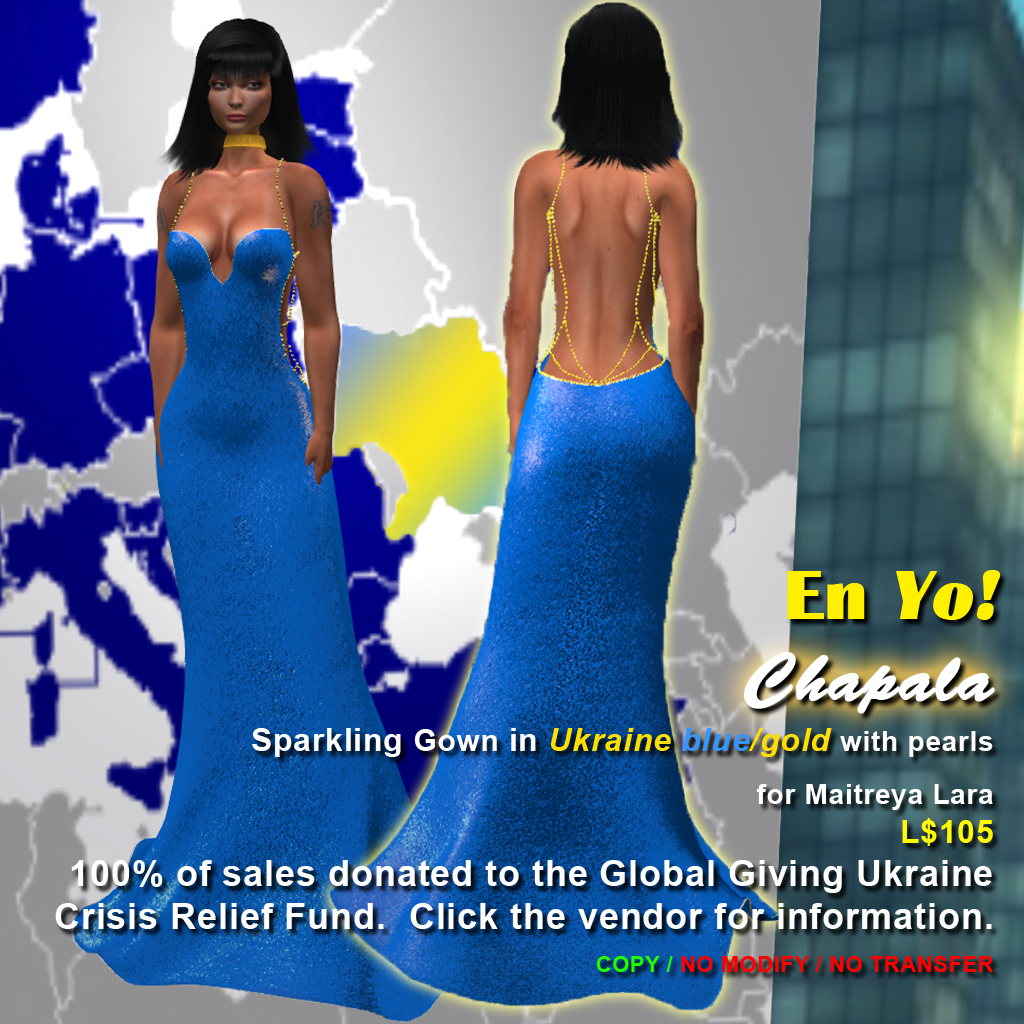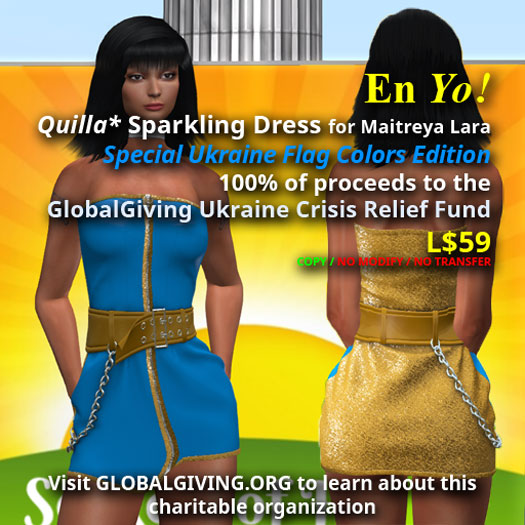 This is my Quilla dress for Maitreya Lara from the Biker collection! But I have fun wearing the Quilla at parties all over the place. Just L$59 so buy them for your friends!
The other four color combinations are in this short video on YouTube.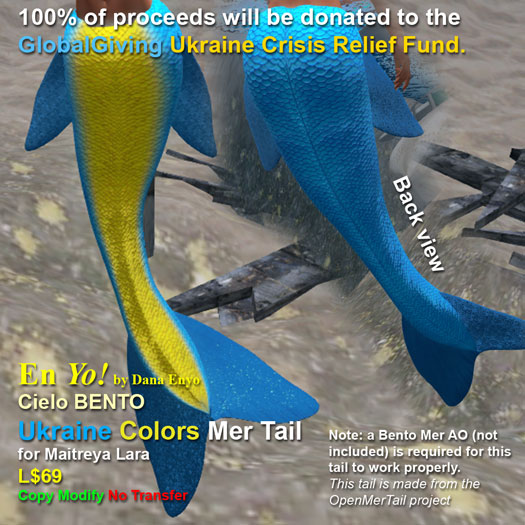 Are you part of SL's huge underwater community? Here's a BENTO tail in Ukraine colors for just L$69! This is made for Maitreya Lara but I've tried it on several other bodies, even system ones, and it works. The tail does require a Bento Mer AO, which is not included. If you don't have a Bento AO, check the tail below!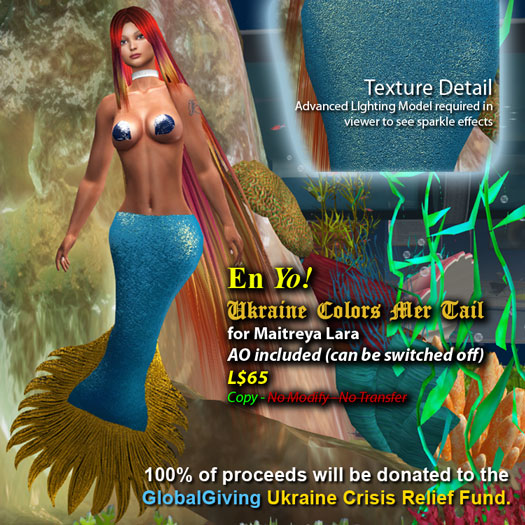 This tail is also made for Maitreya, but I've tried it with other bodies too. Just use the alpha from any mer tail you've got.
The tail includes a basic Mer AO; you can turn that off and use your own (just type /ao off ) in chat. Buy one for your legged friends; a great first tail to explore the oceans!
This tail is just L$65 and sparkles beautifully when you swim!
Remember, ALL PROCEEDS go to Global Giving! And please don't hesitate to just click over to their Website and make a donation; I think there will be a lot of need, for a long time. Global Giving is rated 99.96 by the rating site CharityNavigator.com; see their rating details here.