Catsuits
Don't you just love catsuits? I could just stay in these all day (and night too!)
ON THIS PAGE:
Metallic Jewel Sparkling Catsuits
Liquid Mercury Catsuits
AutoFac Representative Catsuit
METALLIC JEWEL CATSUITS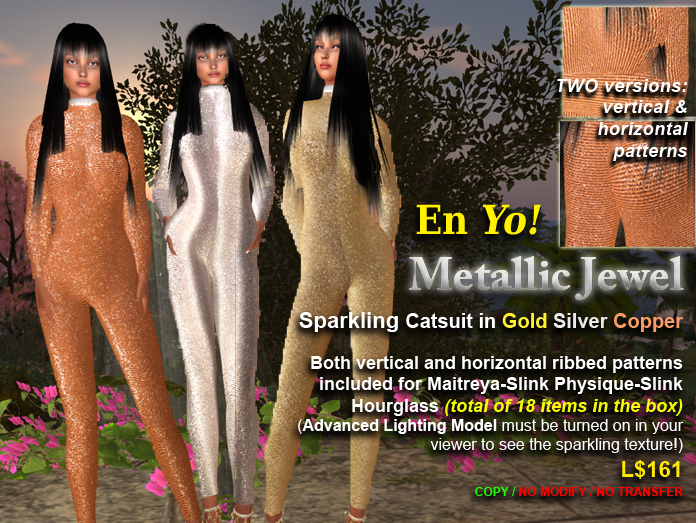 Imagine taking the Liquid Mercury suits just below this section and spraying them with powdered diamonds! That's the effect of these new Metallic Jewel catsuits in Silver, Gold and Copper! I sell these on MP or in my shops for just L$161 for ALL THREE COLORS, with both the horizontal and vertical patterns! At the moment (early May) these are Maitreya and Slink (Hourglass and Physique); I'll post to my En Yo! group when I get these for other bodies.
En Yo! Metallic Jewel Catsuits for Maitreya in Marketplace
IMPORTANT NOTE ABOUT SPARKLE: you will not see sparkle, or any other reflections, in SL unless the Advanced Lighting Model is turned on in your viewer! Go to Preferences > Graphics and check the box. If you have a slow computer or connection you may not be able to leave this on all the time, but you should try it when you buy something new or when you visit a new place! The difference will blow you away. I made a little 30-second video of dancing in my gold suit that shows how it looks (a still photo really doesn't). Take a look here.
LIQUID MERCURY CATSUITS
These next three are my original ones made from real photographic metallic textures. I make each one with the tiny ribs going in both directions. I sell these just like the Metallic Jewel ones above; all three colors for Maitreya and Slink, with the fabric ribbing going both horizontal and vertical, for L$155!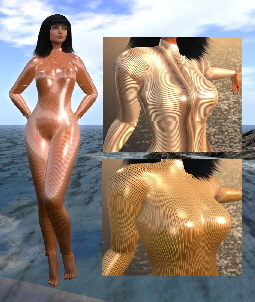 This photo shows the three colors, and the difference between the horizontal and vertical patterns. You get BOTH patterns with your purchase. (There are 18 items in the box!)
Note that the moiré effect varies with the zoom of your camera. If you enjoy taking photos, experiment!
THE AUTOFAC SUIT
The AUTOFAC suit is inspired by the "Company Representative" character in the episode of the same name in Amazon Prime Video's series Philip K. Dick's Electric Dreams. I sell this for just L$50.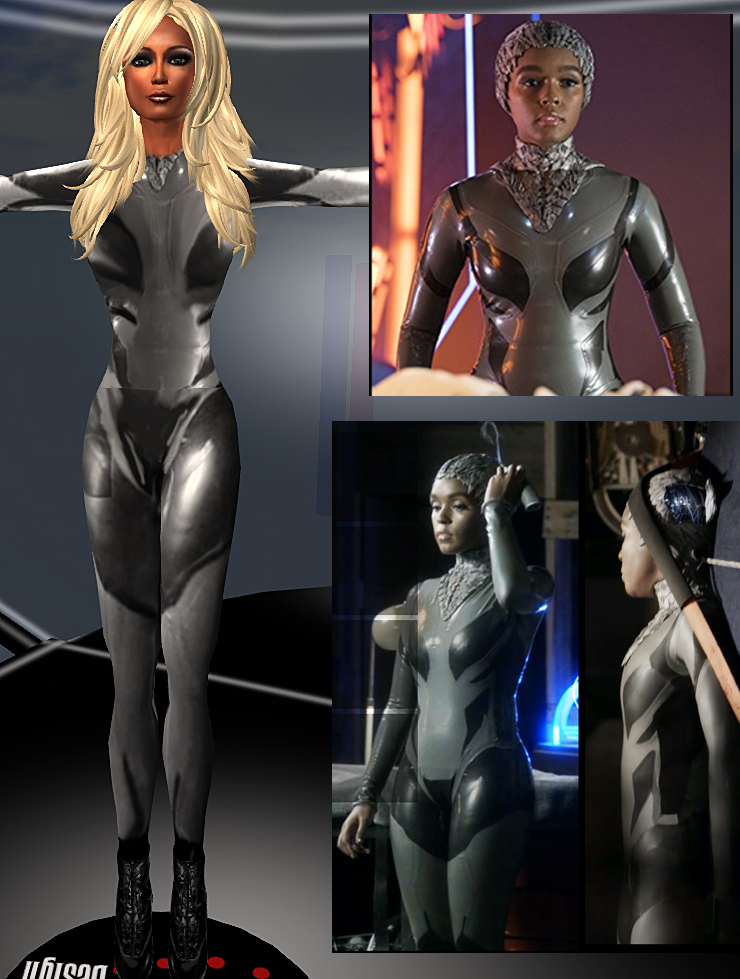 Here's a photo of my version on the left, and pictures from the original series Website on the right.