Merfolk!
BENTO RAINBOW OpenMerTail Project Tails
I created these two Bento tails from Ghost Cloud's free OpenMerTail Project. (If you have never tried texturing mesh yourself, this is a wonderful way to try it!) The Bright one has more intense colors and sparkle; the Rainbow one is more subtle with softer reflections; each is priced at just L$67. Both come with a BoM tattoo layer that softens the seam of the tail with your skin. These tails do not include a bento AO. You can use the Bento Tala AO, or any standard mer AO (including the internal one) along with the HUD that comes with the free Bento Enhanced Tail. .
See both of these tails on Marketplace or find them in my shops!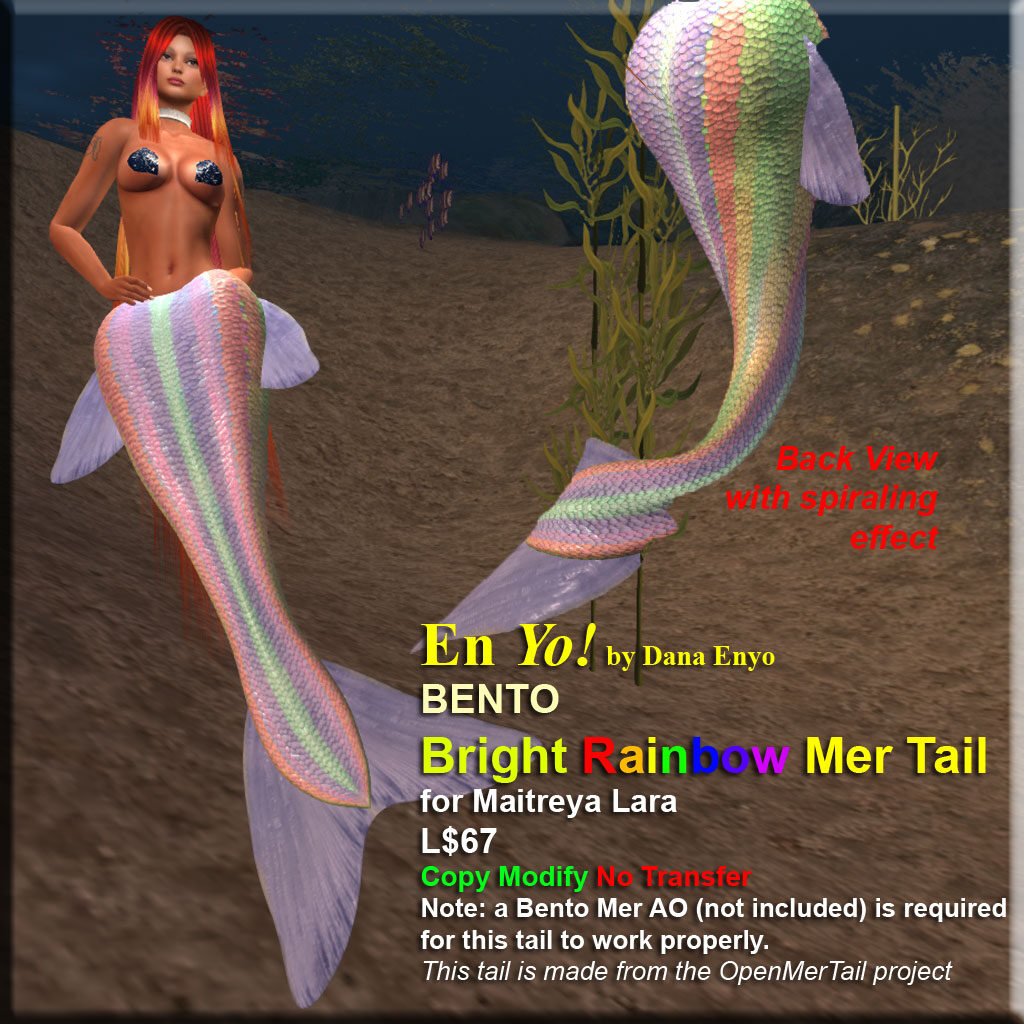 DIAMOND LUSTRE Mer Tail
I find myself wearing this tail a LOT. It's nothing fancy, it's just elegant.
This version sparkles down its entire length with a beautiful copper color. As of early September 2021 I am making this only for Maitreya Lara.
The tail has a built in mer AO, but you can switch it off to use with posing furniture or your own AO.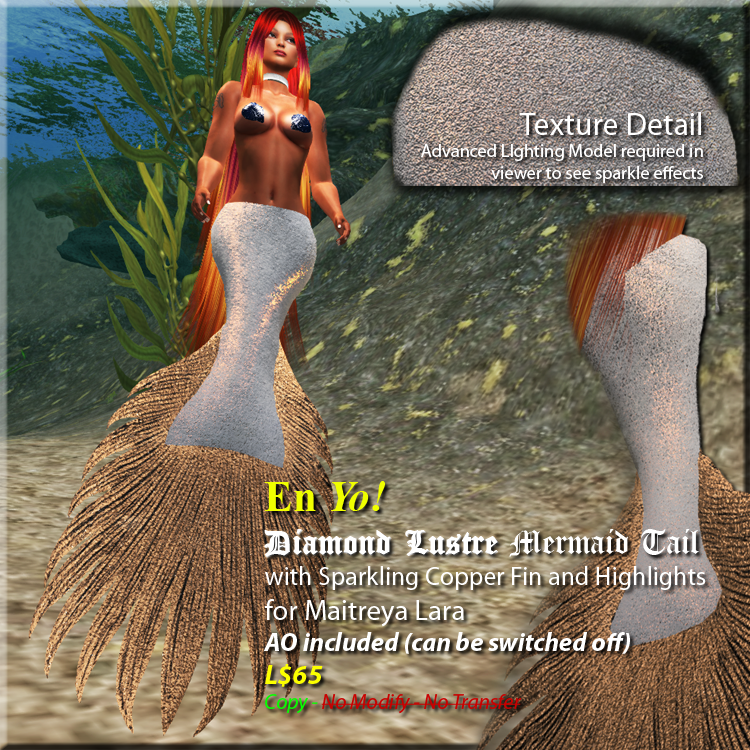 Leather MerBiker Tails
With the creation of the JFC Aquarius–the first nuclear-engine underwater motorcycle–I had to create a special tail for riding it! I make this for Maitreya Lara and Fitmesh, which should fit just about any male or female with a little tweaking of your waist. (See the Aquarius at JFC Motorcycles inworld or in Marketplace.)
You get two textures! One is real leather, the other has shining black mer scales. And in each one, I include a version with a basic mer AO for swimming, and one with no AO (which you should use on the bike, or if you have another AO already).
SCROLL DOWN THIS PAGE to see a video of this tail and bike in action! Get your Leather MerBiker Tail here or in my inworld shops!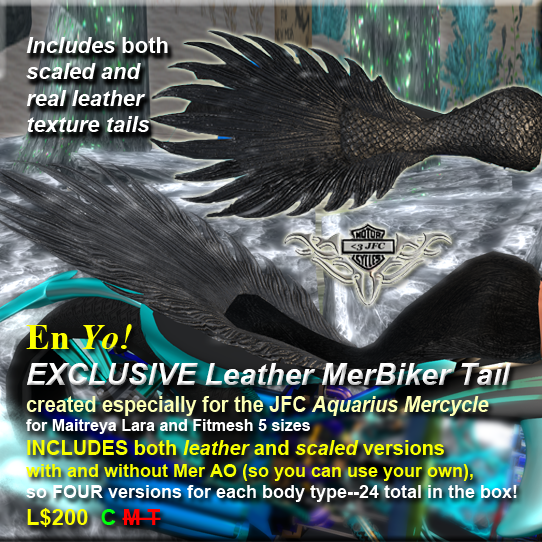 SWF Benefit Mermaid/Merman Tail
These tails are sold as a BENEFIT for the SAFE WATERS FOUNDATION of Second Life. 100% of L$ received by me goes directly to the SWF to support the work they do on behalf of all SL's aquatic creatures! I'm pleased to say this this is the single most popular item in all of En YO!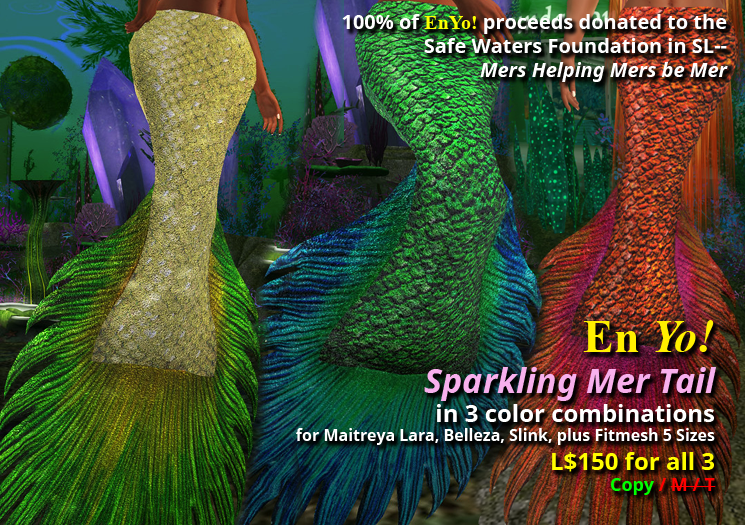 These are quite basic tails, but I've given them some extra color and shine so even a new mermaid or merman can swim in style!
There are versions for Maitreya, Belleza and Slink mesh bodies. The FITMESH 5 sizes should fit just about any mermaid or merman using the included alpha. As with any Fitmesh item, some minor shape tweaking may be required.
The FATPACK includes all 3 tails for L$150, or buy them individually for L$60 each.
See all three tails plus the Fatpack in Marketplace. BUT if you would like 100% of your Lindens to benefit SWF (since Marketplace keeps a 10% commission on every sale), visit my shops instead! I'm afraid they're on land, so take a big gill-full of water first!
WATCH THE SHORT VIDEO to see the tails sparkle in action!
The JFC Aquarius MerCycle
This isn't something I sell, but it is SO FUN I want to share it with you! The Aquarius is SL's first underwater motorcycle. It has an animated Nuclear engine, lots of color options and a bunch of great features. If you're a Mer, it will give you a whole new appreciation for the hills and valleys of the ocean floor. If you're a sailor or power boater, come down and enjoy! And if you're a Biker, the Aquarius opens up a world you never knew existed. See how it looks in this 1:48 minute video! Demo and buy it at the JFC shop inworld or in Marketplace.