Vintage Collection
I am a huge fan of Phryne Fisher, of the mystery novels/television series Miss Fisher's Murder Mysteries! So when I began to visit early-20th-century urban sims, it was time to create some theme outfits!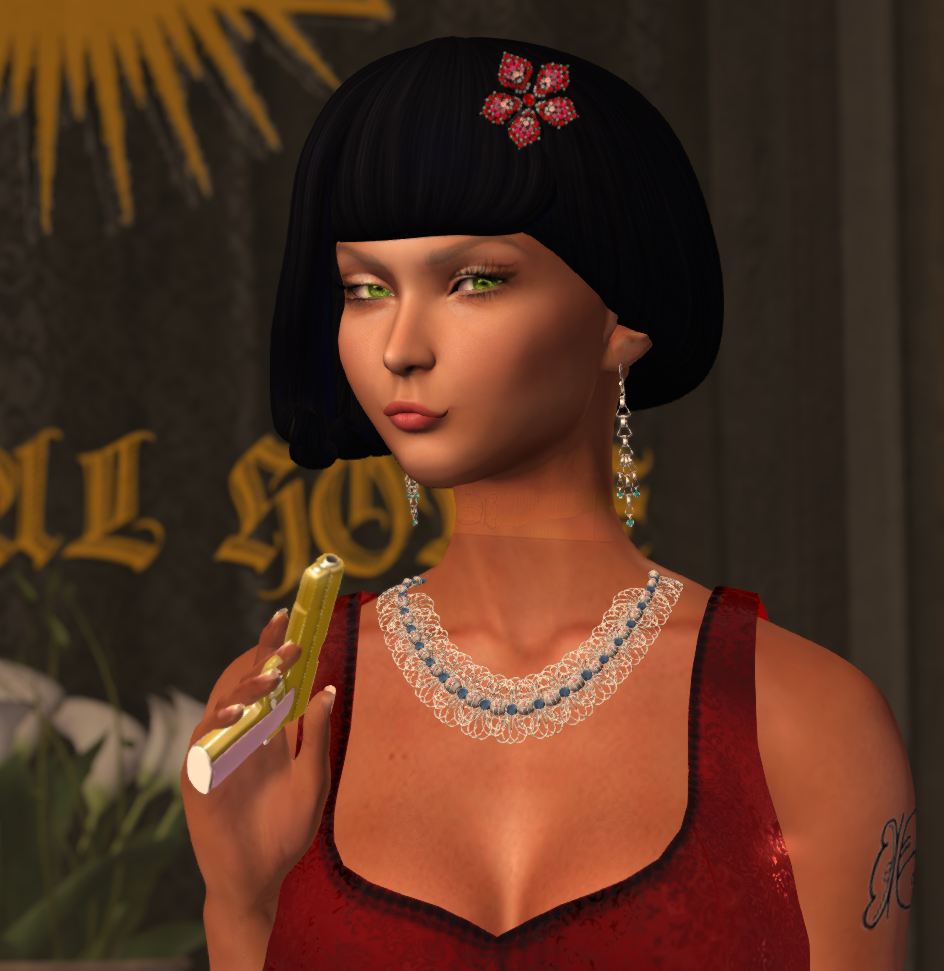 ON THIS PAGE:
Phryne Flapper Dress
Cassie Flapper Brocade Corset Dress
Essie Cloche Hat
Carina Tango Dress (Pre-Release)
The PHRYNE Flapper Brocade Dress
I had so much fun making this! And even more wearing it! The dress is named for Phryne Fisher of the "Miss Fisher's Murder Mysteries" novels and TV series, and that lady detective would LOVE being out and about in Melbourne looking like this.
It's made for Maitreya Lara in seven colors for just L$85 each, with a shimmering brocade texture like I've never seen anywhere before.
Watch the short video to see how it looks dancing, and find my Phryne Flapper Brocade Dress in all my shops and on Marketplace!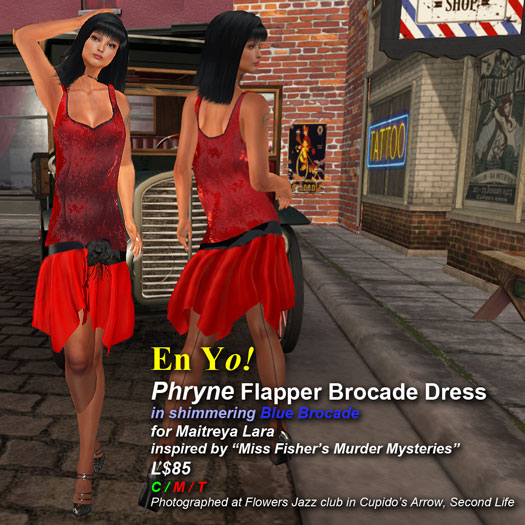 The CASSIE Flapper Brocade Corset Dress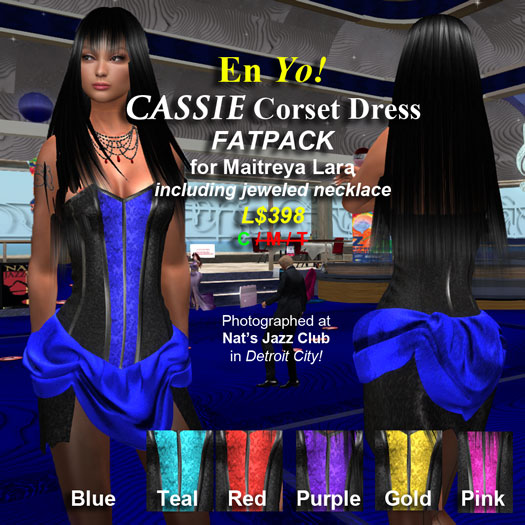 My CASSIE dress celebrates my shop in the Cassandra City sim! It's a mid-20th-century period city with the essence of San Francisco.
I make this for Maitreya Lara in 6 colors; just L$83 each or L$398 for the lot!
See the video on YouTube!
Find on Marketplace or my inworld shops, where every purchase makes a donation to the sim!
The ESSIE Cloche Hat
This hat/hair combo is named for Australian actress Essie Davis, who played Phryne Fisher on the television series.
At this time (late March 2023) this is ONLY in my Mainstore and Le Isle du Noir shop. Visit the shop and GET THE DEMO FIRST by clicking the vendor. This is important, because fitting the two parts (hair and hat) are tricky and I cannot guarantee this will work on every head.
The hat and hair each have a Resizer embedded in them. You must stand on an immobilizing pose pad, so I include one in the box. Do the hair first (you'll be bald on top), then add the hat. Then tweak them both a bit until you don't see the hair anywhere through the hat.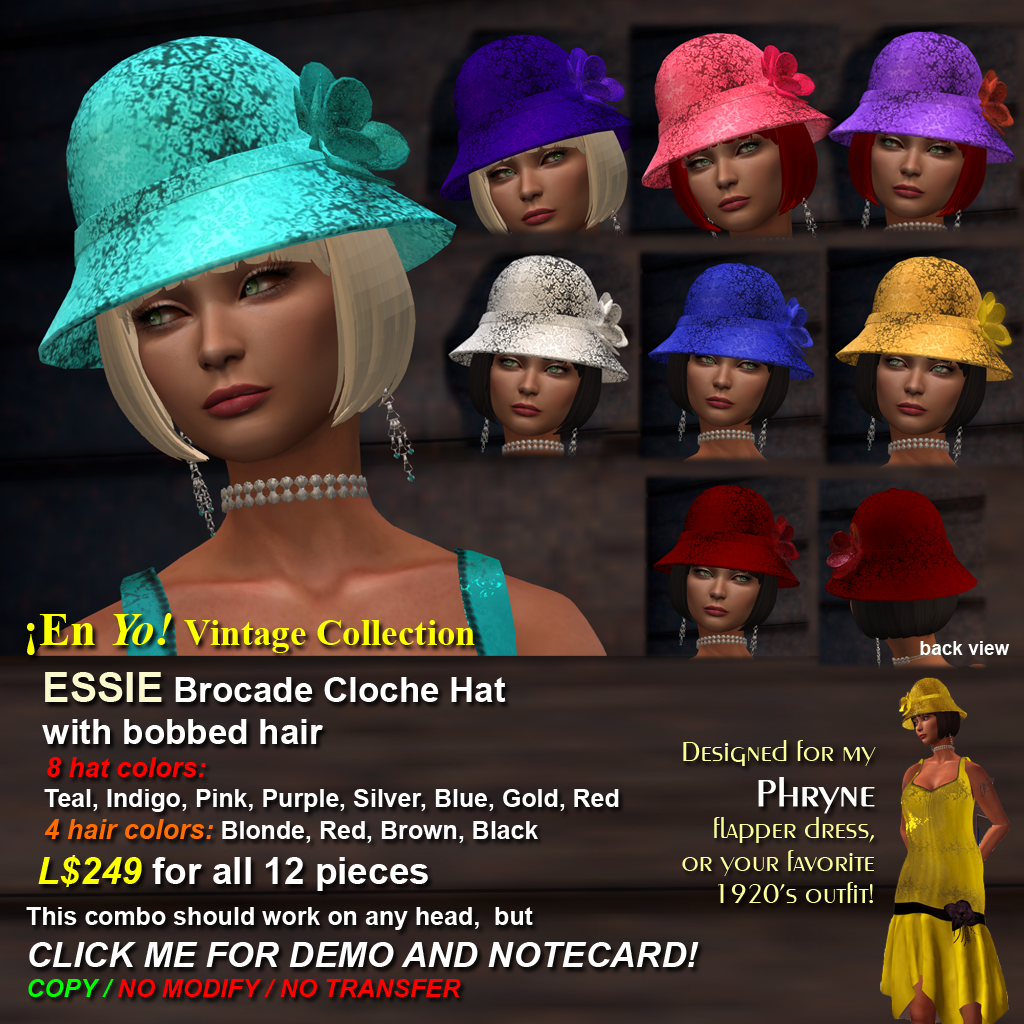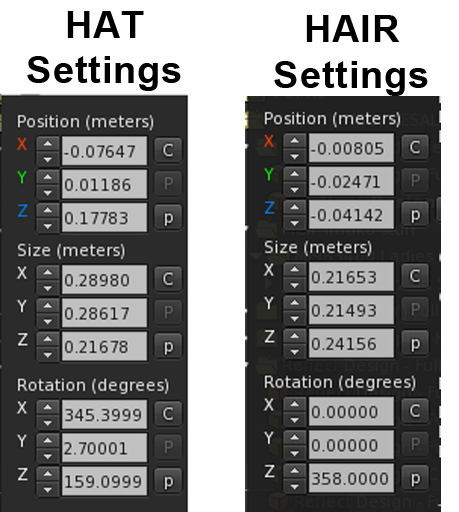 Once you've got it right, write down the numbers in the Edit window (or grab a screenshot like this one).
Now for each color hat and hair, all you have to do is type in the numbers. It really takes just a few minutes, and you'll never have to do it again (unless you change your head size).
It's well worth the trouble! L$249 gets you 8 hat colors and 4 hair colors to mix and match!
The CARINA Tango Dress — Pre-Release Information
So far, I've made 14 versions of this dress! I've just not decided which colors are going to go on sale. (A bright green St. Patrick's Day one isn't on the video; you'll have to imagine it.)
See 13 versions in motion on YouTube!
Do you have a suggestion, or a favorite color combo? Email me or send an IM inworld! I'd love some help in getting the best ones into the shops!