Long Gowns
Hot night ahead, but in a short dress or a sexy jumpsuit? Try the

Nights Out

page!

===============================================

Watch the videos!
Sparkle and shimmer just don't show up in still photos! So I make short videos to show you how the different colors look as you move.
ON THIS PAGE:
Chapala Sparkling Gown with heels
Belle Isle Sparkling Gown with heels
Grand Boulevard Gown with heels
The CHAPALA GOWN Series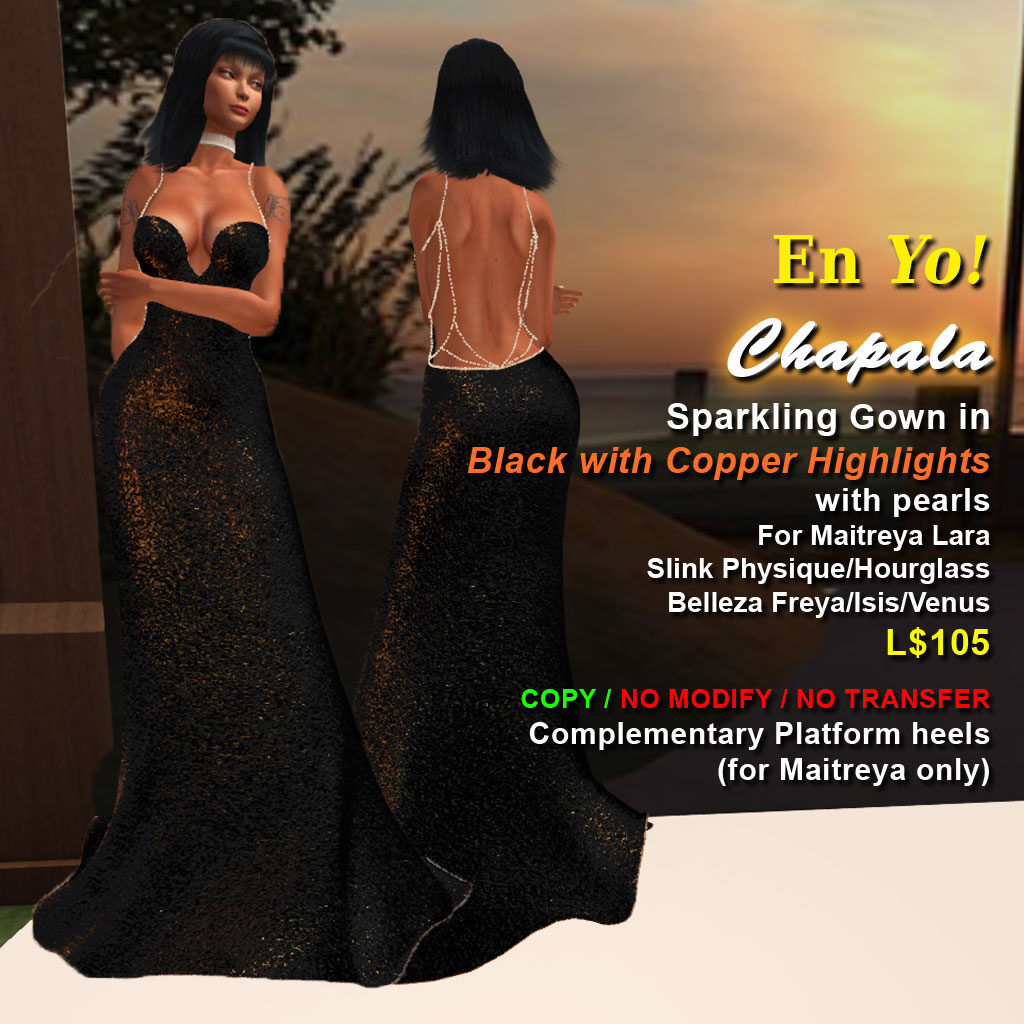 Chapala is almost a mermaid dress, but I think it flares out a bit more gradually than most. The gown sparkles beautifully when you move, and the pearls are incredibly elegant. Chapala is named for the largest natural lake in Mexico, a beautiful expanse south of Guadalajara.
Chapala is available for Maitreya Lara, Belleza Freya/Venus/Isis and Slink Physique/Hourglass and comes with complementary platform heels for L$105. (Sorry, the heels are Maitreya only. but you've GOT shoes, girl!)
I make Chapala in NINE color combinations of fabric and sparkle! Click the link to see them all on my Marketplace store, or come and visit my shops! That's WAY more fun anyway!
Click to SEE ALL COLORS IN MOTION ON YOUTUBE.
En Yo! Chapala Gown with heels for Maitreya/Belleza/Slink in Marketplace
The BELLE ISLE GOWN Series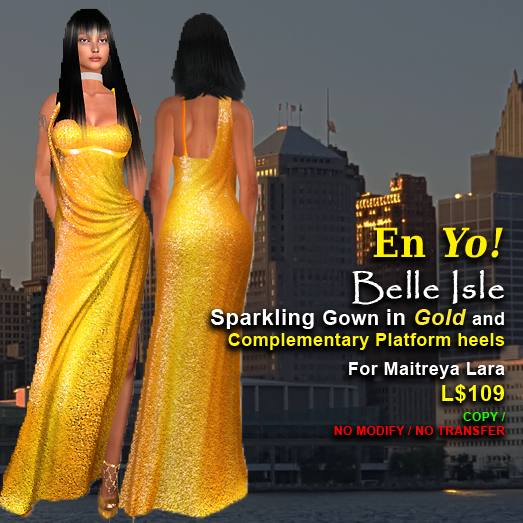 These gorgeous sparkling gowns are named for Belle Isle park, a Detroit municipal park in the middle of the Detroit River between the USA and Canada. Belle Isle has always been a place where newly married couples go to take their first photos! (The photo at right shows the Detroit skyline from Canada at sunset.)
The Belle Isle gown is currently available only for Maitreya Lara, and comes with complementary matching platform heels for L$109.
I make this breathtaking gown in NINE color combinations of fabric and sparkle! (Not all the same as the Chapala.) Click the link to see them all on my Marketplace store.
En Yo! Belle Isle Gown with heels for Maitreya in Marketplace
IMPORTANT NOTE ABOUT SPARKLE: you will not see sparkle, or any other reflections, in SL unless the Advanced Lighting Model is turned on in your viewer! Go to Preferences > Graphics and check the box. If you have a slow computer or connection you may not be able to leave this on all the time, but you should try it when you buy something new or when you visit a new place! The difference will blow you away.
The GRAND BOULEVARD GOWN Series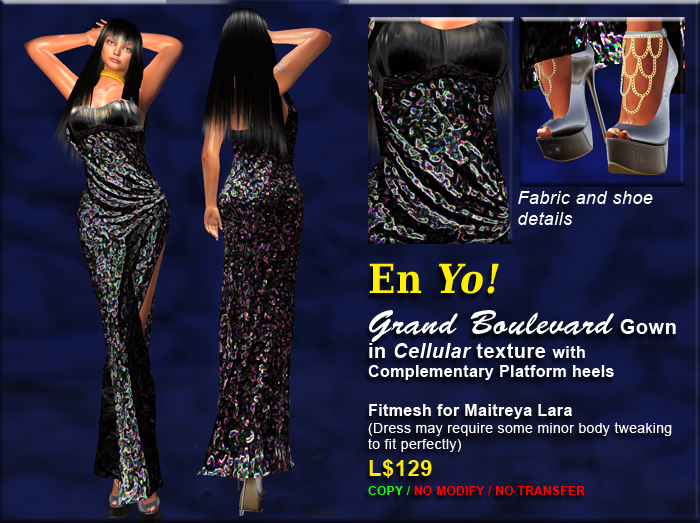 EnYo! Grand Boulevard Cellular Gown Maitreya in Marketplace
I created this CELLULAR gown to wear for seriously elegant nights. My SL shop is across from the famous Nat's Jazz Club, and this dress is exactly the right thing! This is Fitmesh for Maitreya; although made specifically for your Lara body, you may have to use your HUD to adjust the alphas. L$125 INCLUDES the gold chain platform heels! (The image says L129, but it is now L125.)
I have five more colors of Grand Boulevard. These do not have the complex Cellular texture, nor the sparkle of the Belle Isle, and I sell them for L$99 with complementary platform heels (specially textured, of course). Take a look at these two photos and then click the link below to bring up my Marketplace store with all the Grand Boulevard gowns selected!